Tea With Alice - painting by Silver Smith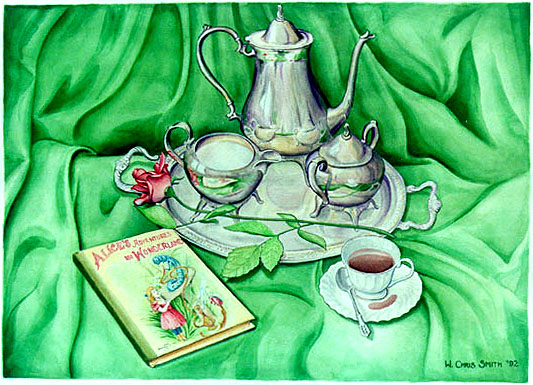 "Tea With Alice"
, translucent water media painting by Silver Smith.
Artist's Statement:

I've always been fascinated with Alice's Adventures in Wonderland and Alice's Adventures Through The Looking-Glass along with their author, Lewis Carroll. Carroll was an Oxford don and mathematician who was something of a Renaissance man during the Victorian era of the latter half of the 19th Century. Known to his Oxford peers by his real name, Charles Lutwidge Dodgson, he was one of the early photographers, and he not only published works on mathematics but also self-published a number of pamphlets on various subjects.

Lewis Carroll is best known for his "Alice" books, which play wonderful games with words and concepts. Carroll loved children and he loved creating puzzles and other things with which to delight kids. My interest in Carroll led me to become an occasional member of the Lewis Carroll Society of America, along side of various Victorian scholars, rare book dealers, physicists, and mathematicians. It was primarily through this association that I became introduced to the world of rare books and all sorts of arcane trivia.

The painting was intended to be a still-life exercise for me to improve skills with translucent water media. The tea set was my mother's wedding silver and china, and the book is an early American copy from my Carrollia collection.